When it comes to selling commercial real estate in Hobart and its surrounding areas, you will always choose the man with the same name as the city he represents.
Warrick Hobart is NAI Harcourts Australia's top Commercial Real Estate Sales Consultant, an award he received at the group's recent awards event held recently on the Gold Coast.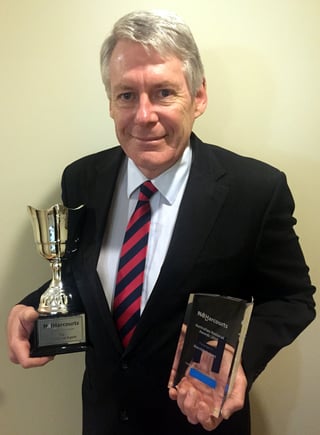 In an outstanding result for both Warrick and Tasmania, he has won the award despite being pitted against Sales Consultants working in much bigger mainland markets than the southern half of Tasmania which he serves.
After a successful 28-year career, with consistent results in both commercial and corporate real estate, Warrick remains a humble and approachable professional who understands that there's no short cuts to success.
"You need to be focussed, organised and be prepared to persevere – it's not rocket science," said Warrick.
As CEO of NAI Harcourts Australasia, Richard Laery praised Warrick's understanding of the broader commercial property, the Tasmanian market, and his attention to detail.
"I credit much of Warrick's success to his strong background with over 28 years spent working with major clients on a National basis covering all facets of the Commercial, Industrial and Retail markets. He has a wealth of knowledge and expertise to pull from and he uses this to assist his clients achieve their objectives," said Richard.
"This sort of experience and knowledge doesn't come cheaply, and Warrick continues to put in the hard yards to get the best results for his clients - that's why he's Number One."
Mr Laery said that Warrick is a key member of the NAI Harcourts National team who, in in the last 12 months, has written over one billion dollars' worth of business in the market place and have representation in 24 locations around Australia.