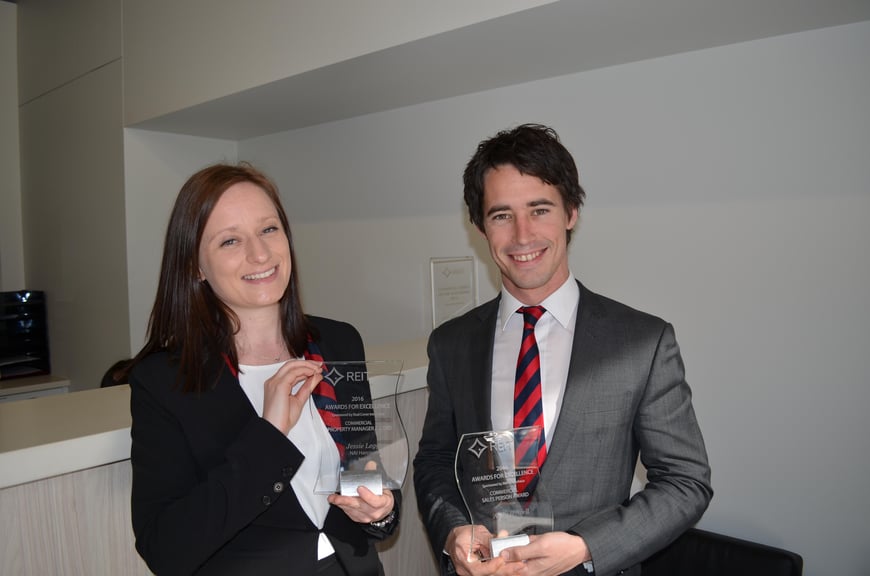 It was success all round for NAI Harcourts in Launceston at the Real Estate Institute of Tasmania (REIT) Awards for Excellence on Saturday October 22nd at the Country Club Casino, Launceston, Tasmania.
NAI Harcourts in Launceston is beaming after taking out two top awards. Andy Howell was awarded the 'Commercial Sales Person of the Year' and Jessie Legge received 'Commercial Property Manager of the Year'.
Since 2007, the REIT has presented the Awards for Excellence in line with the National Awards for Excellence conducted by the Real Estate Institute of Australia (REIA) to highlight the achievements of Tasmania's real estate leaders. The Awards are an opportunity for the profession to celebrate its achievements and recognise the most outstanding practitioners at a state and national level.
Andy Howell's award of '2016 REIT Commercial Sales Person of the Year' signifies outstanding achievement in commercial sales for Tasmania.
For Andy "it's been 'a lot of hard work being the small fish here in northern Tasmania. I am constantly chasing all leads that come my way and creating deals even when properties are not publicly on the market, I pride myself on sourcing solutions for clients regardless of who the listing agency is."
With nearly three years in the industry, Andy is now recognised as the lead sales and leasing agent in Tasmania.
As an agent Andy needs to be an expert in the latest technology systems and to be able to offer services and solutions where many others can't. To prosper in his business, he needs to offer a superior service covering all aspects of commercial real estate in leasing, sales and business broking across retail, office and industrial.
Andy believes NAI Harcourts has great systems in place and amazing staff and management, who are always very supportive and knowledgeable. "The Harcourts group is a consistently great source of referrals and the NAI Global network is a great resource - especially the ability to broadcast listings and questions to our offices worldwide," says Andy.
"Winning an award like this puts the spotlight on us all and the work we have been doing for our clients. It gives the marketplace confidence in not only myself as an agent but also our NAI Harcourts brand which we are still establishing here in Tasmania," he says.
For Andy winning this award "was a complete shock, as our competitors here are extremely strong. I wanted to take the whole team up with me to accept the award, as it really is a group effort from our office. Winning this award would have not been possible without them! It is a great achievement for our office and will be important for the growth of the NAI Harcourts brand in the Tasmanian marketplace moving forward".
Jessie's Legge's 'Commercial Property Manager of the Year' award recognises outstanding achievement in property management in the commercial sector.
Jessie's specialty is being the link between the owner and the tenant. "It's difficult, as I am employed by the owner, however without the tenant, neither of us has a business," says Jessie. "I think understanding this, and being able to empathise with all parties to achieve optimum results is a core element of success," adds Jessie.
Jessie considers her specialty to be with the management of multi tenanted investments. "I believe we have a higher understanding of managing multi tenanted investments than any other agency in the state. To achieve this, we have developed sophisticated distribution models, which allow us to accurately and effectively recover operational costs for our owners, whilst ensuring all our tenants receive maximum enjoyment from their property".
Jessie also loves spread sheets, and mathematical formulas, both of which are essential to the effective financial management of investment property, especially multi-tenant situations.
Jessie wholeheartedly believes being a team member of NAI Harcourts has huge benefits and fast tracks your journey to achieving success. "Team is the operative word; I have never had the pleasure of working with such an amazing team like we have here at NAI Harcourts North. Achieving success comes when you have the backing and support of your peers, which is very much the case at NAI Harcourts," says Jessie.
Jessie considers winning an award such as this increases and promotes confidence within her clients. "Being commercial, many of our owners are international or interstate investors, whom we never meet face to face - having such recognition will really assist in not only instilling such investors' confidence in our product, but also assist in the securing of new managements, as well as promoting a positive representation of our brand within the community," says Jessie.
Richard Laery, Australasian CEO for NAI Harcourts believes "the success comes from hard work with a great support network. NAI Harcourts offer sophisticated tools and training and an international network - while underpinned by strong values. It's fantastic to see Andy and Jessie and the whole NAI Harcourts team succeed and change the way commercial property is sold".
For Tony Morison, Business Owner of NAI Harcourts North, "I am extremely proud of the achievements of our team members. These awards are testament to their diligence and the significant roles they play in our team. I hope through winning these awards more opportunities to gain business in the future will be created."