A service station at 102 River Road, Gympie in Queensland has sold for $5.04 million at a yield of 6.6%.
The Queensland property market is seeing a surge of interstate interest with particular interest from Sydneysiders who are selling their homes at a high and buying more property for their money in tropical Queensland.This migration shift is worth an estimated $8.1 billion into the Brisbane and southeast Queensland market according to Macquarie Bank. With this residential shift also comes an increase in desirability for commercial property assets also.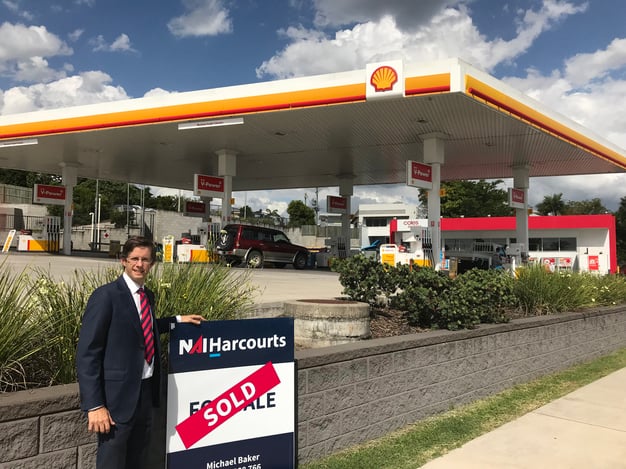 Michael Baker (above in photo) from NAI Harcourts Noosa marketed the property. "The yield of 6.6% compares favourably with yields currently on offer across other asset classes. It is the only Shell/Coles Express service station in Gympie and is ideally located right near Gympie's busiest shopping centre. Like groceries, whether we like it or not, filling up our cars is a staple of everyday life - a very defensive industry," says Mr Baker.
The property site covers 1831m2 of land with a 198m2 building leased to an international tenant branded as Shell V Power plus Coles Express.
The property generated large interest from self-funded retirees and investor groups. There were three offers for the property however the successful buyer is a publicly listed corporation.
In the current market, service stations located in regional areas with an average weighted lease expiry of approximately 10 years are being sold on an average cap rate ranging between 6-8%.
Baker's marketing strategy through a targeted social media campaign was centred around the "hunt for yield", to reach as many passive investors as possible. This has been a focus for investors for years as interest rates sit at record lows. Baker used both national commercial real estate portals together with the vast NAI Harcourts global network to reach as large as audience as possible. This attracted numerous high quality individual investors who showed great levels of interest in the asset.
With Baker's background in financial services, the key focus was to target those groups seeking quality yield investments. The service station is only 5 years old, it came with a long duration lease and a world class tenant. The marketing campaign coincided with a capital raising being undertaken by a publicly listed Real Estate Investment Trust (REIT) with a focus on using the proceeds to acquire Shell/Coles Express service stations.
Richard Laery, CEO For NAI Harcourts says "we are seeing increased interest from investors nationwide looking for attractive returns, Michael's extensive background and huge knowledge gained over years in the finance arena is really assisting investors to understand the challenges and opportunities in the market".
Written by Susie Laery